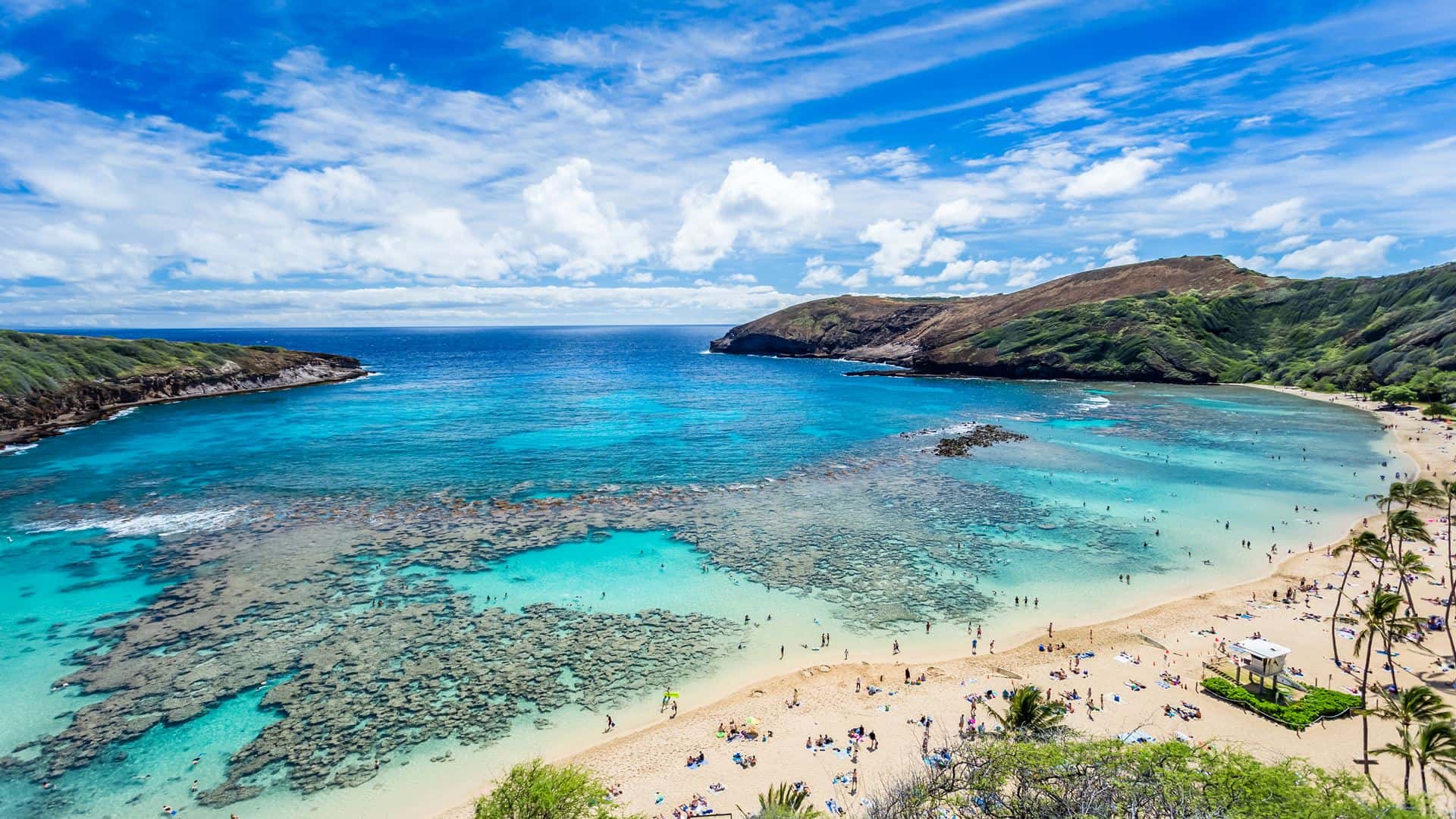 Luxury Vacation Rentals, World-Class Service
80 luxury villas and vacation rentals in Honolulu County
Planning a Honolulu vacation? We're here to help!
The island of Oahu  – the most populated of Hawaii's eight islands – has long been a favorite vacation destination for Canadian and American travelers. The Pacific Ocean blues combined with golden sand beaches and the lush, tropical greenery of the island interior make for a vacation where happiness and relaxation are the default settings.
The beachfront city of Honolulu, stretching alongside the famed Waikiki beach, has a beguiling combination of big-city feel and local surfer vibe. Whether it be catching some waves on your surfboard, shopping, grabbing a cub of local Kona coffee or just watching the sunset across the waters, it's the little moments that become the memories you will cherish for years to come. Get your diary, and start planning a trip with Luxury Retreats to Oahu: your very own slice of paradise is a plane ride away.
Hawaii is a go-to for vacationers who love getting out on the water. With a large variety of beaches to choose from on this island, there will be a sandy shore to call your own depending on what you want to do. Surfing was born in this region, and the legendary breaks on Oahu's North Shore play host to the major big-name surf contests.
Right in the heart of Honolulu, the two-mile-long Waikiki beach is one of the world's most famous stretches of sand. Today it is lined with hotels and restaurants, so you're never far from the action. Whether you're coming to surf, kayak, paddleboard or simply catch some rays, there's a place to do it at Waikiki. Watching the sunset is a national pastime here, and makes the ideal time of day to enjoy a leisurely stroll along the promenade that lines the beach.
Body surfers flock to Sandy Beach on Oahu's South Shore for an invigorating couple of hours on the waves. For something a little more relaxing, grab a picnic and head up to Lanikai beach, which is popular with vacationers keen to watch the world go by.
Oahu also has plenty of coral reefs and sheltered bays where you can enjoy an afternoon of snorkeling. Take a trip to the Hanauma Bay Nature Reserve; it's a former volcanic crater filled with coral reefs and tropical sea life. Only 3,000 visitors are allowed to come to this area each day, so be sure to get there early and you'll be rewarded with sights of parrot fish, turtles, and octopus, to name a few. Guided tours of this area can be arranged, just speak to your Luxury Retreats concierge about this.
Just a few miles outside Honolulu is Pearl Harbor. The site of the devastating attack is now a museum and memorial and offers a fascinating glimpse into the event which shaped the course of the Second World War.
Hawaiian cuisine is a fusion of Asian and Pacific influences, which results in dishes that send the taste buds into orbit. There is much to choose from when it comes to eating out in Honolulu. Alan Wong's is considered Honolulu's most exclusive restaurant, serving its distinctive take on traditional dishes, like Da Bag, which is steamed clams with pork sealed into a foil bag. Local islanders like to dine at Mud Hen Water, owned by celebrity chef Ed Kenney, who serves a variety of freshly caught fish and locally harvested oysters daily.
In downtown Honolulu, many make a beeline for The Pig & The Lady, a Vietnamese fusion eatery famous for its Pho noodle dishes with a Hawaiian twist. Brunch lovers will enjoy making the trip to Koko Head Cafe and trying the breakfast congee with local Portuguese sausage.
If you fancy a snack, make sure you try some malassadas, it's Hawaii's answer to a doughnut and many believe the best examples of it can be found at Leonard's bakery. If you'd like to discover even more about the food culture of this region, plan your vacation to coincide with the Hawaii Food & Wine Festival which takes place each year in October. Events are held across all of Hawaii's islands, and it's a chance to discover more about the culinary talent originating from this part of the world, as well as sampling meals prepared by some of the world's leading gourmet chefs.
Experience the luxury of our Honolulu villas
Taking a trip Hawaii is a decision you will never regret, especially when you chose to stay in a Luxury Retreats villa. With stunning locations, set in gorgeous scenery and fabulous amenities as standard, it's almost impossible to not have a great time!
When you've decided to honeymoon in Honolulu , the next step is to pick the perfect accommodation for you and your beloved. At Luxury Retreats, all the hard work is done for you with our exclusive offering of fabulous oceanside condominiums set in some of the island's most sought-after locations. Just two miles from Honolulu's center, these apartments have 24-hour valet and concierge services, plus a vast array of communal amenities including, open-air pool, hot tub, sauna, fitness center, alfresco living and dining areas, plus ocean-view terraces and a movie theater. You can even book one of the two barbeque cabanas to enjoy an evening's entertainment in the complex or treat yourself to a meal in the private chef dining room.
Inside your luxury condo are expansive living quarters fitted out with comfortable, sleek furnishings, a kitchen with all modern appliances, formal dining, a media center, and a master bedroom with en-suite bathroom. The apartments are only one mile from Waikiki beach, 10 miles from Ala Moana Regional Park, and just 13 miles from the Royal Hawaiian Golf Club. If you feel like a spot of retail therapy, the Ala Moana Shopping Center is close by and has a variety of places to grab a coffee or light bite in, too.