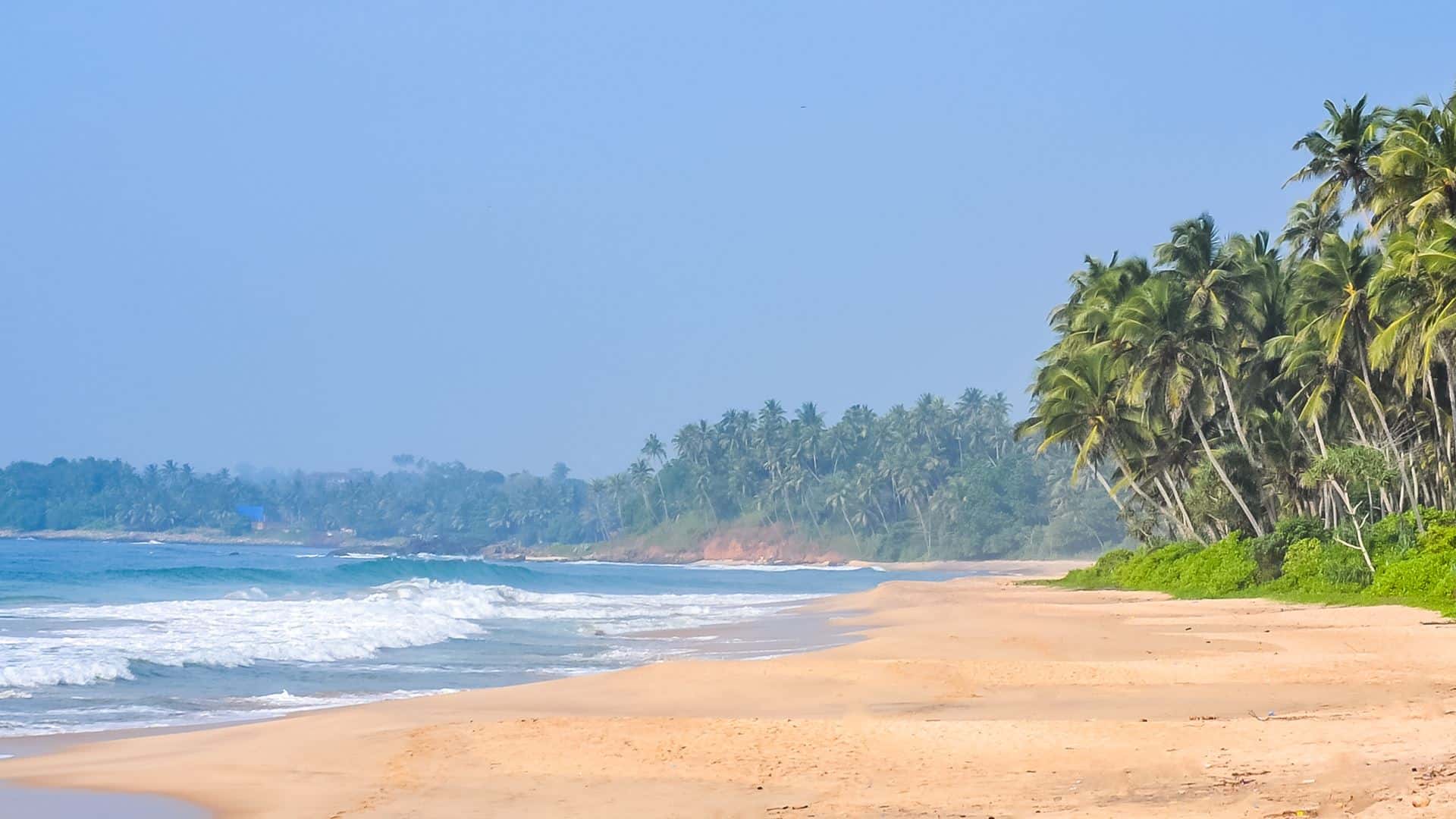 Luxury Vacation Rentals, World-Class Service
Planning a Sri Lanka vacation? We're here to help!
Sri Lanka is sometimes dismissed as 'India lite', but that lazy nickname just isn't true. It's an island country rich in cultural landmarks, intoxicating landscapes, dreamy beaches, and delicious cuisine. What it lacks in size it more than makes up for the intensity of the experience you get when vacationing there. So, leave any preconceived notions you may have of the place at home and make a plan to visit this little tropical paradise for some serious R&R.
There is so much to see in Sri Lanka and a variety of ways to do it. Hop on the recently reopened Colombo to Jaffna train line, called the Queen of Jaffna Express, to explore this densely verdant country from a whole new perspective. It cuts the journey time from Colombo to Galle, a beautiful walled Dutch colonial city, from four hours to 90 minutes. Galle is well worth a day trip to explore the walled ramparts, grab a bite to eat of freshly caught seafood, and take in a spot of shopping at one of the artisanal boutiques lining the streets. If you are lucky and in season, you might even be able to catch an international cricket match.
A hike through Yala National Park, close to the Kambuk river, reveals the island's indigenous wildlife, including elephants and leopards. If trekking is more your thing, try combining a trek up to Ella Rock with a tour of one of Sri Lanka's signature tea plantations. You'll never look at a tea bag in the same way again.
For those of you with a head for heights, explore the abandoned palatial ruins of Sigiriya, which is set on top of a colossal boulder only accessible by one steep stairway. A little more sedate is a tour of the Dambulla Buddha caves, filled with painted frescoes and sculptures of the Buddha. Your Luxury Retreats concierge can organize tours and excursions for you.
Sri Lanka beaches are some of the prettiest in this part of the world. East of Galle lie tropical beaches that are perfect for a day spent lounging under a palm tree, while the island's west and south coasts have the largest number of golden beaches to make your own. Surfers flock to Weligama to get their tidal fix and Arugam Bay, on the south-east of the island also gets their seal of approval, as do the Bay's legendary beach parties. If you're looking to surf for the first time, Kabalana is recommended.
Galle is fast becoming a hot spot for delicious dining experiences. The dining out scene is still fairly recent to Sri Lanka owing to the island's protracted 26-year civil war (the war ended in 2009), which forced its residents to stay close to home. Now, restaurants are sprouting all over the place with pleasing results. Fresh sushi fans should head to The Tuna & Crab set within Galle Fort, while Church Street Local is fast making a name for itself with its Middle Eastern-meets-South Asian dishes. A stroll through Galle's Green Market and Fish Market will reveal plenty of fresh produce so you can make your own dishes in your villa's kitchen, too.
If you can, try the hopper, a rice based pancake, shaped into a bowl that holds a variety of curries and spicy delicacies. It's available at roadside eateries all over the island and is very much recommended.
Where to stay - villas in Sri Lanka
Sri Lanka's laid-back attitude, stunning weather, and lush, tropical greenery make it a great location for a big family get-together, or destination wedding. All you have to do is decide who to invite to this island paradise.
Beachfront homes in Sri Lanka
Nothing compares to thebeach villas in Sri Lanka . At Luxury Retreats, we offer the beachside getaways that are the last word in modern day opulence. These villas, which cater for parties of up to 16 people, combine South Asian architectural motifs, like open-sided pavilions, with 21st-century features, such as vaulted ceilings, all white upholstery, sleek wooden flooring, and minimalist décor.
Everything you could possibly want in a vacation home is here. From the media and games rooms to a private yoga pavilion, and outdoor pool with attached bar, and king-size bedrooms each with its own en-suite bathroom.
A gourmet chef is on hand to whip up any type of dish you can think of, or, if you would like to try your hand at creating some of the area's local dishes, you can have cooking lessons in your fully equipped kitchen. These attractions might make you want to lounge around the villa all day, but the allure of the beach just outside your doorstep is sure to call you out before long.
Sri Lanka's capital city Colombo is a great vacation base, as it places you right in the middle of the island's cultural heartland, making it a great starting place for a vacation filled with expeditions and activities. Sleeping up to 30 people, ourluxury villas in Colombo will suit large groups looking to reconnect or celebrate an important event.
The villas' architectural styles feature the best of both worlds, with layouts based on the traditional style of the salas, or open plan pavilions, while the interiors and finishing touches are all the last word in modern luxury. From the fitness center, open plan dining area, floor-to-ceiling windows, and understated furnishings, these villas' sole purpose is to soothe the spirit and delight the senses.